After touring Madhouse, get back on the bus and head to Old Salty's Restaurant for an out of this world buffet-style meal that features locally-harvested seafood, such as crab cakes, soft-shelled crabs, fish, and clam strips. The meal also has non-seafood items like chicken, ham, tossed salad, vegetables, baked pineapple casserole, homemade rolls, and much more. An assortment of pie slices are available for dessert. Water and iced tea are standard for drinks.

*Make it a crab, shrimp, and chicken feast instead for an extra $15 per person.




After lunch, get back on the bus and enjoy the scenic drive to Layton's Chance Vineyard & Winery. Layton's Chance is Dorchester County's first winery! It is owned and operated by the Layton family, who has farmed the fields of Dorchester County for nearly 100 years, cultivating corn, wheat, and soybeans. They started the winery in 2005. When you arrive at the winery, enjoy a tour of the vineyard, as the winery staff informs your group of the grapes that are used in the production of their wine. You'll also have the opportunity to see the machinery and equipment that they use to make the wine. After that, it's time to go into the tasting room to sample some of the many wines that are available. Wine will be available to purchase to take home.


| | |
| --- | --- |
| | |


When getting back to Cambridge, we'll stop at Kool Ice & Seafood, where you'll have the opportunity to purchase seafood to take home with you! Bring your coolers if you'd like to do this!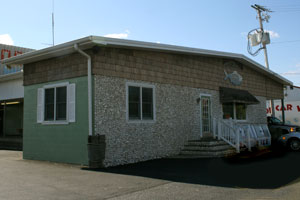 Wanna know what some people are saying about this tour? Check out these testimonials!



"We enjoyed our Oyster Aquaculture tour with you. Your commentary about the history of Dorchester County and its current efforts to continue the watermen's way of life was very interesting and informative. We now have a better understanding of the importance of the seafood industry to your region. At the Madhouse Oyster farm, we got to see and hear about a new way to harvest oysters and how this will add to your seafood industry.

"Of course, another highlight of the tour was our lunch at Old Salty's. We all left full and happy. We learned a lot and had a lot of fun on this tour. Thanks for all of your help with arranging this learning adventure for our group." -

Jill Gentry, Lifelong Learning Institute of Manassas, VA





"I wanted to let you know what a great tour you gave us of Dorchester County, Cambridge, the Choptank and tributaries, all the information about history, Harriet Tubman, the lives of watermen and others who live in your great part of the Eastern Shore, crabbing, Blackwater wildlife refuge, oyster farming and more. We all learned so much about your way of life and your wonderful part of Maryland. Our lunch at Old Salty's was superb. I know we will go on another tour with you all. You are a wonderful family business. Thank you so much!" -

Suzie Hill, St. Francis of Assisi Sodality, Baltimore, MD


Suggested Itinerary (times are approximate and may be adjusted)

10:00am: Meet step-on tour guide at Dorchester County Visitor Center in Cambridge

11:00am: Arrive at Madhouse Oysters on Hoopers Island

12:00pm: Lunch at Old Salty's Restaurant

2:30pm: Visit Layton's Chance Vineyard & Winery

4:00pm: Visit Kool Ice & Seafood

4:30pm: Conclusion of Tour

25-person minimum